Singapore Web Design
by Smart Hosting & Design Services
Smart Hosting is a professional online media and Internet strategy company based in Singapore.
Our staff features a veteran team of web developers, graphic designers, software architects and marketing professionals that know how to get results. Strategic project development, a highly-motivated staff, professional results and competitive pricing are why our customers continue to choose SmartHosting.

---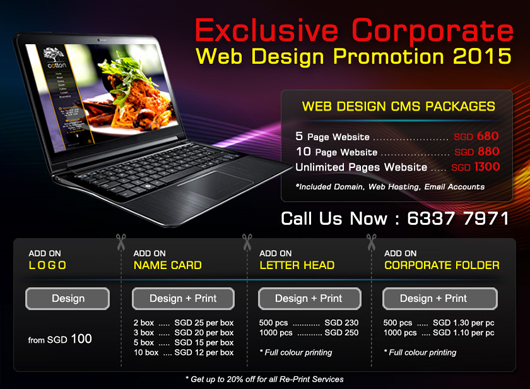 ---
Domain Prices : Singapore Domain Registration
.com - per Year SGD $20
.com.sg / .sg - per Year SGD $45
.asia - per Year SGD$45
Check domain availability here
---
FREE ! .com.sg Domain for New Business Registration by ACRA
New business registered in Singapore via ACRA are entitled to 1 Year FREE domain extension .com.sg
To find out on how you could get a free domain , please contact us for the procedure.
or get any domain free + free Web Hosting for 1st Year
when you signed up any of our Singapore Web Design package.